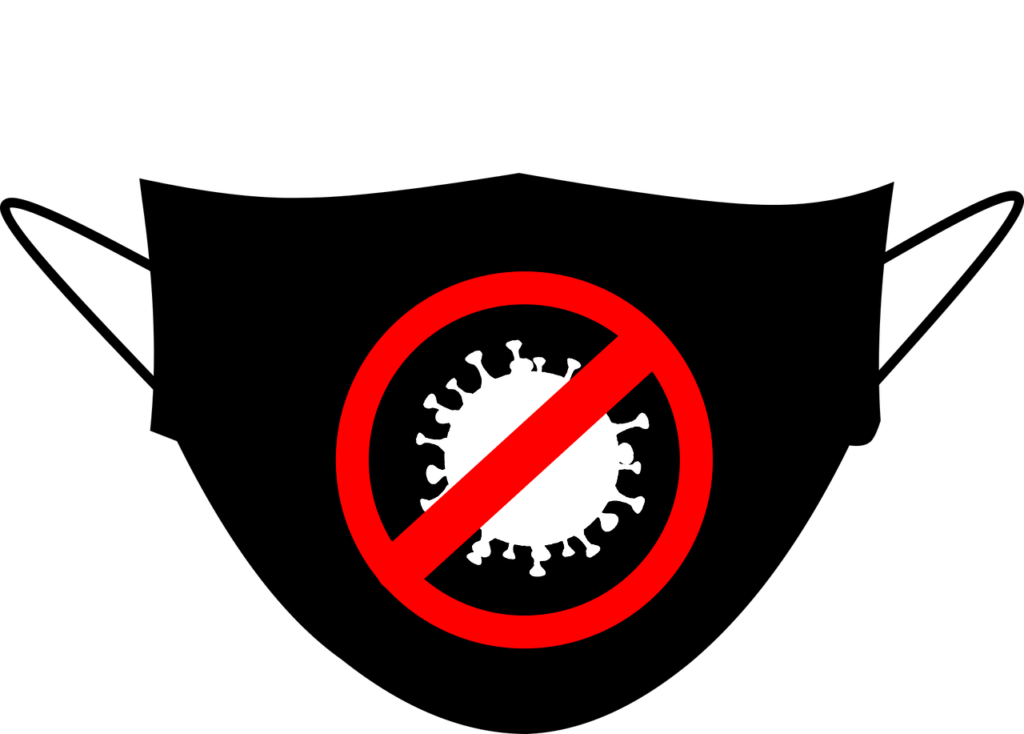 The coronavirus or COVID-19 pandemic, as it has dominated our decision-making process for day-to-day activities during the last few months; participating in scientific field work is no different. In order to comply with state and institutional COVID-19 guidelines, we are forced to take extra precaution preparing for our upcoming microplastic sampling. In compliance with the Rhode Island Department of Health's (RIDOH) current guidelines, every establishment that wishes to reopen must develop a written plan for the safe operation with regards to COVID-19, the University of Rhode Island has developed an institutional plan. However, Brian Preziosi, postgraduate researcher on the OSIMAP Project, has drafted a precautions document that all team members will be required to follow in order to ensure the safety of ourselves and those around us. This document includes guidelines for wearing facemasks, practicing social distancing, as well as for sterilizing equipment used in the field and limiting gatherings of people in laboratory areas.
The health and safety of all members of the OSIMAP project are our number one priority. Even without a pandemic, self-preparation is necessary for field work. This means eating well, sleeping well, and doing the best to stay healthy. All members will constantly be monitoring their health and should be checking themselves for the appearance of any COVID-19 related symptoms including cough, fever, sore throat, and shortness of breath. As a general precaution, if any member of the project team believes they have any of these symptoms, feels that they may be coming down with any kind of sickness, or has been directly exposed to someone that tested positive for COVID-19, they are to seek medical attention and return to working from a quarantined location for 14 days. As many of our interns and Coastal Fellows are from out of state, following Rhode Island state regulations, they may be required to quarantine for 14 days as well if their state has not yet lifted the stay at home order (or equivalent legislature).
As the state of Rhode Island begins to evolve its reopening plans (i.e. moving from Phase I to Phase II) and requirements for state, public and private institutions, we are constantly revising our COVID-19 guidelines and precautions regarding field work to correlate with these requirements from the governor. As of June 1st, Rhode Island has entered Phase II of their reopening plan. The governor has extended the social gathering size to a recommended, "maximum social gathering size" of 15 people. Our laboratory group is smaller than 15 people (nine people total), but this order still affects our lab group by extension of people to whom they are consistently exposed (roommates, spouses, etc.). All project members are aware of who they come into contact with and whether or not they have been exposed to COVID-19.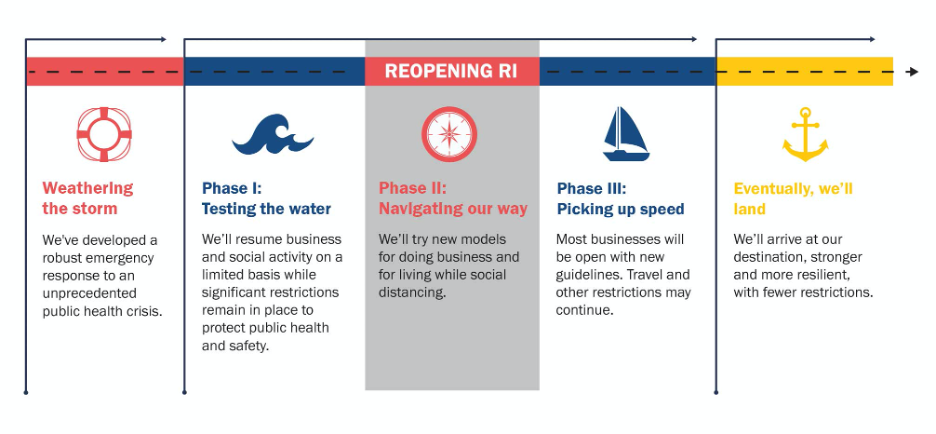 When working within the labs, our home institution, the University of Rhode Island, has outlined precautions to keep the community safe while in closed quarters such as a laboratory. They have recommended occupancy limits on the amount of people allowed in one space, so that everyone is able to be socially distant and maintain a space of six feet between each person working within the lab. In order to accomplish this, only 2-3 people will be allowed in our lab spaces at a time.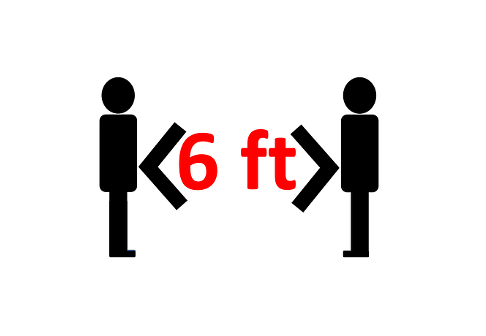 In the field, social distancing and COVID-19 measures also come into play. Still following Rhode Island's initial movement to limit the spread of COVID-19, all members working in the field must safely remain six feet apart from one another. In order to follow the RI social distancing guidelines regarding boats, the limit of people allowed aboard including the captain and staff is a maximum of four people; to adhere to social distancing guidelines we will most likely only be allowed on the outside deck of the boat. This limits the size of our field sampling team and makes the handling and loading of equipment more complicated. We will be sanitizing commonly used equipment such as sampling devices and pumps, as well as public surfaces such as handles and handrails. We are also utilizing precaution signs to encourage members of the public to keep their distance to protect our team from contact with the virus as well as protect our data from contamination while sampling from shore. The more people in the area, the more likely that particles from their clothing and other personal objects could contaminate the samples we take.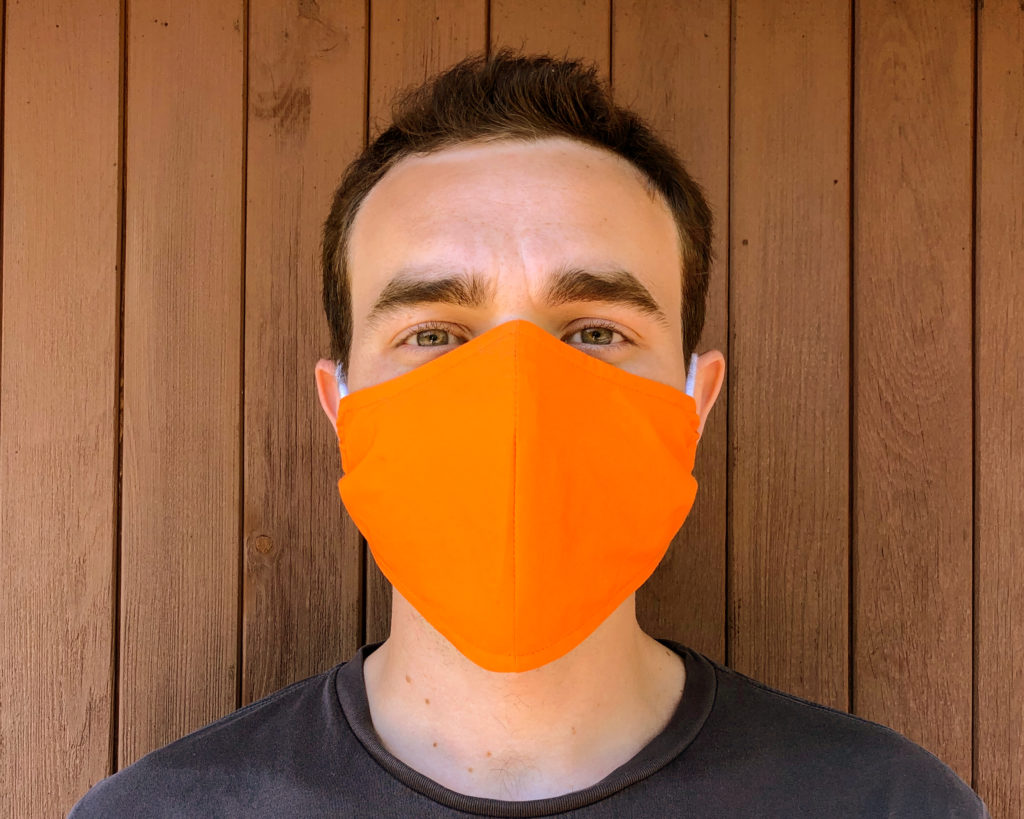 Although some restrictions are loosening, wearing face masks in public areas is still required. In our case, in order to comply with Executive Order 20-30 while avoiding plastic fiber contamination to our sampling, Rory Maynard-Dean, one of our OSIMAP interns has made each member of our team a plastic-free textile face mask in a distinctive bright orange color that they will be required to wear while sampling in the field. You can find out more about our team's foray into the face mask design business by reading Rory's article about how he constructed the masks.
Overall, the OSIMAP team is consistently monitoring the COVID-19 situation as it unfolds, and we are being mindful of the precautions to take in the field to ensure the safety of all of our members